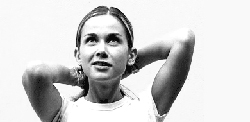 international news _ 26th June, 2006
DJ Lucca's Festival Fears
Text by Jonty Skrufff (Skrufff.com)
Czech techno DJ Lucca chatted to Skrufff this week about her upcoming festival appearance at Creamfields Poland and revealed that she endured her worst ever DJing experience at a similar event in Hamburg.

The strikingly attractive spinner was opening ahead of DJs Adam Beyer, Henriik B and Chris Liebing though became distraught when she realised a two second delay between her headphones and the sound system meant her mixing sounced train crash-style out of synch.

"I talked to the technician, he checked everything and said it was fine, then he started telling my tour manager that I couldn't mix. This went on for 45 minutes and it was terrible," she recalled.

"Then all the other guys came over and looked at my like I was unable to mix two records together, I told them what was going on and the next DJ, who's also a sound engineer, also checked the system. Chris Liebing had a lot of effects boxes plugged in and this second guy suddenly discovered the delay and reset it to zero. After that everything was OK," she laughed.

"Afterwards I played another 45 minutes normally then after that I got so drunk that they had to carry me back to the hotel. I was so stressed out."

Lucca's next gig at Creamfields sees her performing alongside Richie Hawtin and immediately before Dave Clarke, though she insisted she has no concerns about a repeat performance.

"I'm looking forward to Poland because I'm quite well known there and have played there quite often," she said, "People in Poland are also really up for seeing new DJs and hearing new styles, they're really open minded. I think it's going to be great."
DJ Lucca Official Site
Creamfields Poland Official Site