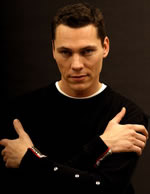 international news _ 16th June, 2006
Tiesto Makes Mickey Mouse Music
Text by Nick Lawrence (HigherFrequency)
We all remember the Athens Olympics when astronomically popular trance superstar Tiesto, who will be headling the Love Parade's closing party, managed to increase his fan base even more by performing for millions round the world. Then last year he was of course invited to perform at the opening of a new ride "Space Mountain: Mission 2" at Paris Disneyland. Well, now new evidence, directly related to upcoming release of the highly anticipated Johnny Depp film "Pirates of the Caribbean: Dead Man's Chest", has arisen that Tiesto is personally bankrolling Walt's cryogenic lifestyle.

Coinciding with the movie's July debut will be the release of a CD single which will include a Tiesto trance anthem remix of the movie's theme song 'He's a Pirate'. Tiesto also had the chance to express his more musical side with an orchestral remix making its way onto the disc. This movie tie-in and general fraternizing with Disney could one day mean that hip hop artists are dethroned as the kings of crossing over to cinema. Carl Cox has previously tried his hand at acting in the surprise clubbing hit "Human Traffic" so it would come as no surprise if Tiesto and take to the screen.

Interview : Tiesto Video Interview (20/03/2006)
Party Report : Tiesto Asia Tour 2006 "In Search Of Sunrise 5 "