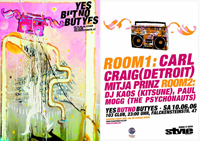 international news _ 15th June, 2006
Berlin Clubbers Surrender To The World Cup
Text by Jonty Skrufff (Skrufff.com)
German club promoters Conny from Rio and Elie from Pale Music chatted to Skrufff this week about the World Cup and both agreed it's certain to affect Berlin nightlife dramatically over the next four weeks.

"The situation has changed over the last years and now the club scene and the club people are totally into football. They are watching the games together on a big screen and it's really popular," said Conny, "Football is cool now."

Israeli promoter Elie, who puts on parties at both Rio and clubs including Kapital, agreed, declaring 'soccer is pretty big here, though mainly for men off course."

"I think during the World Cup everybody follows it though and goes to game screenings, it's just part of the city's vibe."

English born Berliner Mark Reeder who runs Flesh Records from the city, was equally enthused about the tournament and its impact, telling Skrufff 'all eyes of the world will be on Berlin and Germany and especially our city's friendliness and hospitality.

"It's Germany's chance to finally show the world how much it has changed and undoubtedly, Berlin is geared up to welcome it's world cup guests to its numerous party locations, to celebrate and party together," he said.

Both Conny and Elie advised clubbers to head for Club 103 to watch the games where guest include Carl Craig and Dizzie Rascal in the next week.

"Some clubs are making the World Cup out to a big happening and are showing soccer everyday," Conny concluded, "I'm really curious to so how many tourists really will be in town and how many of them will know about our club."