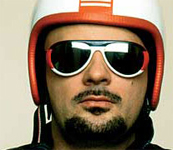 international news _ 8th June, 2006
Westbam Unites the States
Text by Nick Lawrence (HigherFrequency)
At a recent press conference in Berlin the official theme song for the Love Parade's homecoming was announced. This year the music has been provided once again by Westbam who was involved with the 1998, 1999 and 2000 theme songs. The song titled 'United States of Love' was played for the first time in public as the prototype float was revealed. Westbam's involvement with the event comes as no surprise considering his past collaborations with Love Parade's founding father Dr. Motte.

There was fierce competition for a place on one of this year's floats, of which 39 still need to be constructed, with a panel of judges making the final decisions with the help of public votes. While the majority of the floats will be controlled by German organizations there are still a few that will be in international hands like the Euphoria & DJ Zikuta float from Chile which will feature Tobi Neumann, Luciano, Ricardo Villalobos and Dinky (of 'Acid in My Fridge' fame).

The Love Parade will be held on July 16th in Berlin. For a full list of floats and artists please visit the official site.
News : Berlin Loves a Good Parade (01/03/2006)