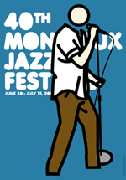 international news _ 2nd June, 2006
James Holden & Bette Midler Join Hands For Jazz
Text by Nick Lawrence (HigherFrequency)
Switzerland's illustrious Montreux Jazz Festival is celebrating 40 years of music this year with an enormous lineup that really does offer something for everyone. Not only will the sixteen days of music provide for fans of blues legend BB King, housewife hero Bette Midler, indie-pop icons the Strokes and Rock n' Roll hall of famer Van Morrison but there will also be plenty of electronic music artists among this year's almost 200 acts.

The Border Community team, including James Holden and Nathan Fake, will be yodeling their way into town and joining forces with Mathew Jonson's Wagon Repair label to host a stage at the event. Recent Fabric series contributor Carl Craig, as well as documented jazz enthusiast Gilles Peterson are both strapping on their cowbells and adding their names to the lineup too, while friends and European festival strumpets Richie Hawtin and Ricardo Villalobos, along with hometown boy Luciano will also be taking part in the revelry.

The Montreux Jazz Festival first took place in 1967 over three days and has since snowballed into a sixteen day event with more than 200,000 visitors attending last year. This year's event will be held from June 30th until July 15th, check the official site for full details.