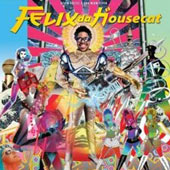 international news_23rd June, 2004
Housecat's Rocket Ride
Due for release on July 26th Rocket Ride is the first single to be taken off Felix's new album, 'Devin Dazzle and the Neon Fever'.
Starting with a stun guitar riff out of Blue Oyster Cult and a drum part from Kiss, the new single continues Felix Da Housecat's transition across established music genres sounding like no other music I've ever heard. Felix's name for it is 'Post New Wave Disco Soul'.
Also highly recommended are the remixes of the track from Freeform 5, Dave the Hustler but the one that seems to be going down the best on the dancefloor is the remix by DJ Soulwax (A.K.A. 2 Many DJ's).
Preview of the video for the new single