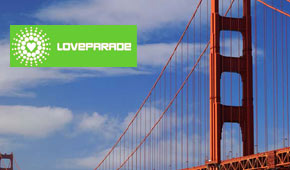 international news_21th June, 2004
Love Parade in U.S.
The world's biggest open-air dance music celebration, Berlins infamous Love Parade, is going to put on its first event in the U.S. on the 2nd of October this year. First held in 1989 the annual event has grown from a relatively small parade to a mammoth event that attracts well over a million people every year. Spawning offshoots all over the world in countries such as Austria, England, Israel, Mexico and South Africa, it has become THE global techno event of the year.
Put on by the original Berlin organisers this years event will take place in the liberal Californian city of San Francisco, a city like Berlin well known for its thriving party scene and home to the worlds largest Gay Pride festival. Starting on the scenic Embarcadero it will go south through the market area ending on the redeveloped waterfront where there will be a day long event with dancers, sound systems and a whole heap of international electronic talent playing well into the early hours.
Taking the positive and peaceful vibe to the states, this year's first event hopes to attract thousands of music fans to what will hopefully become an established event in San Francisco's music calendar.
For more info and tickets