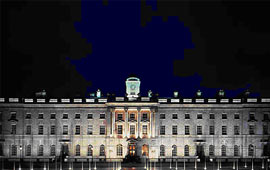 international news_15th June, 2004
Grolsch Summer Spectaculars
Taking place in 2 of the oldest and most beautiful English cities, London and Bristol, the Grolsch Summer Set events puts some of the most exciting contemporary composers in some of the most breathtaking venues you'll ever see them in.
3 nights at Bristol's Canons Marsh Amphitheatre starts on Monday the 2nd of August with local heroes Massive Attack, Groove Armada will play on Tuesday 3rd and Basement Jaxx on the 4th.
Back in the capital there will be 5 nights of music at London's prestigious Somerset house. Starting on Wednesday 4th with the marvellous Air they are followed by Turnbrakes on the 5th, Basement Jaxx on the 6th Beverly Knight on the 7th and Snow Patrol close the events on Sunday 8th.
Definitely one for the more sophisticated electronic music fans check out their website for ticket and event details.