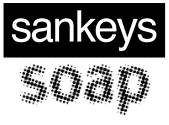 internatinal news_14th June, 2004
Madchester Celebrates
One of the UK's favourite clubs is celebrating its 10th anniversary this year. Outliving the legendary Hacienda, Sankeys Soap, an ex-soap factory in the industrial heart of Manchester has become one of the most popular venues in the North of England hosting quality events with some of the dance worlds best artists every week.
To celebrate a decade of reckless abandon they're be having a party for each year of opening. That's right, 10 years means 10 weeks of celebrating, sounds like a bit of an excuse to cash in on the celebrations to us... but when you see the line up, who cares? its going to be rocking.
Starting on the 26th of June with Dimitri from Paris the next few weeks will see the cream of global DJs pop into the club to spin. Sasha, Darren Emmerson, Groove Armada and Derrick Carter all join in the celebrations, with the climax on the 28th August when the original Hacienda residents, Graeme Park and Mike Pickering will reunite for one night of Madchester partying.
The Big 10 Weeks of Parties...

Sat June 26th - Opening Party - Dimitri from Paris
Fri July 2nd - Back to Basics loves Sankeys
Sat July 3rd - Miguel Migs
Sat July 10th - Erick Morillo
Sat July 17th - Groove Armada
Fri July 23rd - Back to Basics loves Sankeys
Fri July 30th - Francois K
Sat Jul 31st - Bugged Out featuring Felix da Housecat
Sat August 7th - Underwater & Circus featuring Darren Emerson
Sat August 14th - Chibuku Shake Shake - Audio Bullys
Fri August 20th - Sasha
Fri August 27th - Derrick Carter + LTJ Bukem
Sat August 28th - Grande Finale - Ha?ienda Reunion - Park and Pickering
more details and tickets