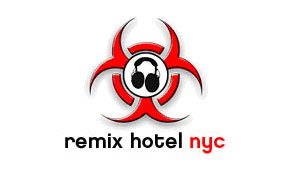 international news_11th june 2004
Music Technology Workshops, NYC
A music conference focusing more on the creative tools and processes than the performances The Remix Hotel Technology Events takes place in NYC this month from the 25th 27th @ SAE Institute of Technology, NYC Branch.
Spotlighting the latest and greatest production processes and equipment and the companies that manufacture them the conference will have displays and presentations from the biggest manufacturers on production hardware and software. Apple, M Audio, AMD, Digidesign, Ableton, Steinberg, Vestax and many others will have booths displaying their latest offerings where visitors can try the products and take part in seminars and tutorials with top producers

Giving aspiring young producers a chance to learn from their heroes artists such as Chuck D and DJ Johnny Juice (Public Enemy)(Cakewalk), Junior Sanchez (M-Audio), Grandmaster Flash (Event Electronics), Handsome Boy Modelling Schools Dan the Automator and Prince Paul (DigiDesign) and Grammy Award Winner Peter Rauhofer (Star 69 Records) have all been confirmed on the company stands to give talks on the creative process and how they use the respective companies product to carry it out.
A dance music conference without a party? Of course not. To demonstrate the performance aspect of the conference there will be after event parties at some of New York's coolest clubs.

FRIDAY 6/25
M-Audio Party at Glass Lounge: Music by the laptop band House of Diablo.

SATURDAY 6/26
Handsome Boy Modeling School at the Knitting Factory: Featuring Dan The Automator and Prince Paul, Domino, Casual, Dres and Cat Power!

SUNDAY 6/27
Remix Hotel Closing Party at the Tribeca Grand: Featuring Ming + FS plus special guests TBA..