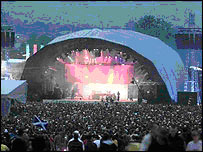 international news_4th June, 2004
Glastonbury - Full Line Up Announced
Tickets for this year's annual Glastonbury Festival of Contemporary and Performing Arts (to give it its full name) sold out in record time. Stories of fans desperately hitting the redial button all day flooded the news as all 110,000 tickets sold out in just a few hours. And when you see the lineup you can see why,
With appearances by everyone who's anyone in the UK this years festival looks set to follow the success of last after the new security measures (a dirty big fence) was introduced preventing an estimated 30,000 people jumping over. With 11 stages and a whole host of other activities going on that should keep even the local farmers amused the Glastonbury experience is legendary for being like no other festival in the world.
With an all-star lineup so diverse that festivalgoers won't have time to fit everything in this year sees Paul McCartney, Oasis and Morrissey playing alongside Groove Armada, The Chemical Brothers and Kraftwerk. A special mention must go to Orbital who closes the festival on Sunday night with their last ever live performance in the UK. The Hartnoll Brothers have decided to pursue solo careers after the release of their next album, 'Blue' out on the 26th June.
BUT there is some consolation, The Glade stage, renowned at the festival for its top line-up of electronic artists is having its own party, featuring many of the artists due to play at the Glastonbury weekend although it won't match the big one if you close your eyes and don't wander around so much it should at least help