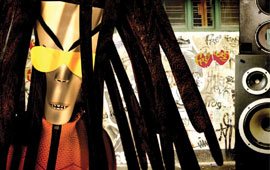 international news_4th June, 2004
Freq Nasty Video Showcase goes International
The multi media showcase performed by Freq Nasty and a host of other visual and video artists is returning to the UK and Hungary for an extended tour of the show that combines decks, FX, live MCs and a multi-screen VJ show.
Featuring Animation from some of the world best artists Jamie Hewlitt's Zombie Flesh Eaters, the Brothers Mogg from Weta Digital (the New Zealand team who animated Gollum for the Lord Of The Rings trilogy), art director Cindy Lee (the last film she worked on won a Palme D'or at last year's Cannes Film Festival) and a host of other cutting edge graphics.
The Showcase has been described by Freq Nasty as "the visual equivalent of Michael More and Public Enemy getting pissed on the set of Monsters Inc. during an anti-globalisation riot. This is going to be a truly innovative live experience"
Video Nasty Experience dates

6/17 Cargo - London
6/18 Cini Trip Festival - Budapest
6/25 Glastonbury
7/2 Stealth - Nottingham
7/16 Glade Festival - Reading
7/17 Blowpop - Bristol
8/29 TDK Cross Festival - London