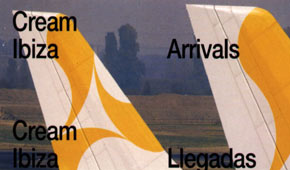 International news_4th June, 2004
Cream Ibiza 2004 Announced
Returning tot he white island for their 9th consecutive Cream are building on the reputation they established last year as THE party for the islands 1000's of party goers.
This year looks like its going to be another mad one with Cream favourites Paul Van Dyk and Tiesto residing in the main room and being joined every week by a multitude of talent throughout the season including Armin Van Buuren, Tall Paul, NU-NRG (Live), Riley & Durrant, Paul Kershaw, Andy Price, Gareth Wyn, Mar T and Ian Betts.
Outside, the terrace will be keeping the original Balearic spirit alive with a strictly 'house' policy. Hosted by Seb Fontaine with guests such as The Audio Bullys, Jon Carter, Andy Carroll and Jo Mills it looks set to be another summer of storming parties from the Cream crew.
For more details and a list of dates check out their website.