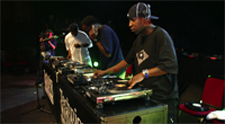 international news _ 31st July, 2006
DMC Scratch Gold Turntables
Text by Nick Lawrence (HigherFrequency)
The worldís finest mixmeisters are at it again for the 21st time ever. Thatís right, itís almost time for the annual DMC World DJ Championships. This yearís finals will be held at the Hammersmith Palais in London with the teams battling it out on September 10th and the solo turntablists going for the grand prize and ultimate respect the next day. While the respect and admiration of thousands of adoring fans are of course bonuses the winner will look forward to, it is hard to look past the US$30,000 and gold Technics turntables up for grabs.

There is still plenty of time until the grand finale with National Finals coming up in Canada, Singapore, Australia and Japanís DMC final taking place at the Liquid Room in Tokyo on August 12. All finalists from around the world will be fighting for a place in the record books alongside famous names such as Q-Bert, Mixmaster Mike, and A-Trak who surprised everyone back in 1997 when he took home the gold at the rip old age of fifteen.

We all know that the majority of entrants are die hard hip hop DJs but it might surprise you to hear that in the past the DMC World DJ Championships has featured a few unexpected names like Carl Cox and Global Underground pioneer Tony de Vit.