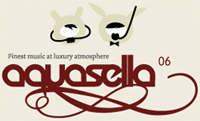 international news _ 31st July, 2006
Techno's Spanish Villa
Text by Nick Lawrence (HigherFrequency)
Even if you have never heard of the autonomous community of Asturias which is located on the Bay of Biscay in the north of Spain, you now have a particularly good reason to head there this August. On the 4th and 5th of the month Richie Hawtin, Michael Mayer, Ben Sims, Tobias Thomas and many others will be revving up the crowds in this beachside principality to celebrate ten years of the Aquasella festival.

The festival will this year be split up into two zones, the open air zone, strictly for the latest in techno sounds, in honour of the festivals original musical policies, and a zone called Carlsberg Carp (perhaps something has been lost in translation) which is where fans of other genres will be able to dance the weekend away. For those wanting to tap into their primeval spirit there are 300,000 square metres of unbridled forest where you can pitch a tent and get a bit of R&R away from the thumping bass.

Aquasella festival began in 1997 with only a couple of thousand visitors and Christian Varela as the headlining act. Varela played again the two following years for steadily increasing crowd sizes and also returned twice again in 2002 and 2004 when attendances had gone well past the 10,000 mark. Last year, thanks to a lineup that included Stacy Pullen, Chris Liebing, Reinhard Voigt and Technasia, around 15,500 techno crazy Europeans turned out for the event.

Lineup :
Octave One (Live), Richie Hawtin, Alexander Kowalski (Live), Ben Sims, Agoria, Michael Mayer, Oscar Mulero, The Youngsters vs Scan X (Live), Terrence Fixmer (Live), Dominik Eulberg, Jennifer Cardini, Valentino Kanzyani, Frank Kevitta, British Murder Boys, Pepo, Arianna Puello "Ari" (Live), Afu-ra (Live), DJ Koo, Cycle (Live), Glamour to Kill (Live), Digitaria (Live), Oliver Huntemann, Silversurfer, Tobias Thomas, Alexi Delano, Reeko (Live), Agent, Darkrow, Boris Divider (Live), 2 Rare People, Doozer Broken Loop, Telemaco (Live), G Kahn, Rudy, Higinio and Alberto Palacios.