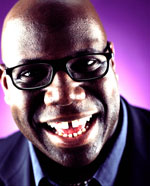 international news _ 28th July, 2006
Carl Cox Reaches Fifty
Text by Nick Lawrence (HigherFrequency)
The label that was formed by prominent techno DJ Carl Cox and slightly less renowned DJ C1 is about to release it's 50th record ever. Intec Records will be releasing a 12 inch piece of vinyl which will feature Cox's first original solo production for the label since it started back in 1998. The double sided release will feature a reportedly "funk fuelled" 'K'Pasa' as the A side while on the reverse Cox has pieced together a musical eulogy entitled 'Spoon' for friend and fellow DJ Mark Spoon, who before his death was involved in projects such as Jam & Spoon and Tokyo Ghetto Pussy.

In its eight years of business Intec has seen many artists pass through its doors. In the beginning names like Christian Smith & John Selway as well as Marco Bailey were part of the label's roster. Through the years artists such as Ben Sims and Cristian Varela have popped up and everyone will of course remember Tomaz & Filterheadz' crowd favourite 'Sunshine'. More recently though the techno label has been pushing the sounds of Sebastian Leger and his latest track 'Bad Clock' which has been known to be thrashed out by Tongy on his Radio1 show.

'K'Pasa' / 'Spoon' will be released on Intec Records on September 4.
Intec Records Official Site
Carl Cox Official Site
Mark Spoon Official Site