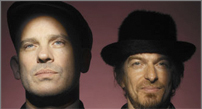 international news _ 25th July, 2006
Coldcut Walk A Mile In Elvis' Shoes
Text by Jonty Skrufff (Skrufff.com)
Coldcut sent out promo copies of their upcoming single Walk A Mile In My Shoes this week, which include a mixed bag of remixes from producers including Tiga, Tom Belton and Henrik Schwarz.

Schwarz's dubbed down house take is definitely the best, followed by Tiga's rather bland techno take, though all mixes are radical new interpretations of the Joe South song which was previously covered by Elvis Presley and Bryan Ferry, which was how Coldcut discovered it, they told Skrufff earlier this year.

"I always thought it was a great soul tune, masquerading as a country rock tune, so a while ago I got a singer to demo it then for a long time it sat around on the shelf," said Coldcut's Jon More.

"It was originally at 90bpm then at one point I did a house number on it, sped it up, changed the key and generally fucked about with it. I thought it was interesting, but I still thought it was a bit cheesy to be honest, so I put it on the shelf again for quite a while," he admitted.

Jon's Coldcut partner Matt and the band's A&R Ross Allen then heard him messing around with it one day and begged him to take the track further, despite Jon's better judgment, he admitted.

"Ross said 'this is pretty interesting' and I said 'Well, I think it's a bit cheesy the vocals doesn't work but it gives you an idea of what could be done'. We started talking about it and Robert Owens' name came up," he recalled.

"We thought Robert was going to be in Chicago or wherever, but in fact he lived in London and is a friend of a friend of a friend, so we got in touch with him and within a week he was in the studio re-doing the vocal. We did some more programming on the track and that was it. It almost didn't make it onto the album because it had sat around for ages. I think I originally started working on it about three years ago," said Jon.

Walk A Mile In My Shoes (featuring Robert Owens) is out on August 21 on Ninja Tunes.