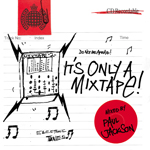 international news _ 25th July, 2006
Paul Jackson's One Mix Wonder
Text by Jonty Skrufff (Skrufff.com)
UK tech-house-electro type Paul Jackson chatted to Skrufff this week about his upcoming Ministry Of Sound compilation 'It's Only A Mixtape- Volume 2' and confirmed that he genuinely mixed the CD in one go, and even created its artwork.

"I chose twenty or so tracks that have been doing the rounds in my CD wallet for a while and mixed it at home, in one take, warts and all," said Paul. "I then got my felt tip pens out, did some drawings on the cover and sent it all back to Ministry. The whole concept was to do a mix CD that was back to basics and as far away as possible from the computer mixed over-slick hype machines that a majority of compilations have become," he said.

The new compilation includes credible electro-tech cuts from the likes of Sebestian Leger, Tiefschwarz and Eyerer & Chopstick, though Paul confessed his own first efforts at compilations were decidedly different.

"I used to constantly do mix-tapes when I was young and I used to take them so seriously, putting so much time and effort into making the running order perfect," he admitted. "And I certainly did some seriously cheesy love song mixtapes for girlfriends back then too- I remember putting Alexander O'Neal's Fake on one once, for some reason," he laughed.

The erstwhile Underwater star recently launched his own label Dozer though admitted his business philosophy is governed by creative goals more than commerce.

"You could certainly make a lot of money in the past from releasing records and doing remixes but the sales just aren't there any more," said Paul. "So you do feel that you're giving music away in one sense but then I'd rather people got to hear the music I made than didn't. You make the music to be heard and appreciated and Dozer is an outlet for my music and others too," he explained.

"It's also getting harder to make serious money as a DJ these days," he added, "I still get paid a lot but I've never been in the big league of fees. I've always kind of shied away from the hype machine, to be honest, and I'm happy about that. I think I'll be able to look back on my career with pride, one day, and at least I'll still have a soul left," he laughed.

It's Only A Mixtape Volume 2 is out on July 31st on Ministry Of Sound.