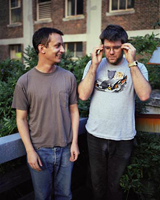 international news _ 21st July, 2006
The DFA's UNKLE Is A Senior N.E.R.D.
Text by Nick Lawrence (HigherFrequency)
Production duo James Murphy and Tim Goldsworthy, otherwise known collectively as the DFA and LCD Soundsystem, will be releasing the second part of their remix collection that come last April. The punk funking pair, whose record label is astonishingly called DFA, have given the likes of Tiga, UNKLE, Junior Senior and N.E.R.D. a reworking to instill them with their distinctive partytastic electro sound. Another act to receive the remix treatment is funk driven synth-pop foursome Hot Chip who are actually responsible for the DFA label's most recent single release 'The Warning'.
Just a couple of years after the turn of the millennium the DFA were the hottest remix team in town when they created two massive dancefloor stompers by remixing the Rapture's 'Sister Savior' and 'Orange Alert' by Metro Area. Since then the duo have kept things well separated releasing all remixes using the moniker the DFA and all original material under the alias LCD Soundsystem.
The DFA Remixes: Chapter 2 will be out on DFA on October 3.
Tracklisting
01. Tiga / Far From Home (DFA Instrumental Mix)
02. Junior Senior / Shake Your Coconuts (DFA Remix)
03. N.E.R.D / She Wants to Move (DFA Remix)
04. Hot Chip / Colours (DFA Remix)
05. Nine Inch Nails / The Hand That Feeds (DFA Remix)
06. Goldfrapp / Slide In (DFA Instrumental Mix)
07. Chromeo / Destination Overdrive (DFA Remix)
08. UNKLE / In a State (DFA Remix)