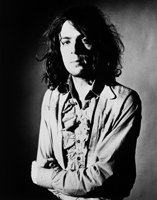 international news _ 20th July, 2006
Pink Floyd Legend Dies
Text by Jonty Skrufff (Skrufff.com)
60s psychedelic pioneer Syd Barrett, 60, died last week, following complications relating to diabetes. The Pink Floyd founder became infamous in later years as the era's first acid casualty, after suffering a drug induced breakdown and becoming a virtual recluse for 35 years, though his impact unquestionably remains his music.
"His retirement to lead an outwardly unproductive life was on a par with, say, Mick Jagger leaving the Rolling Stones in 1964 to live quietly with his parents," said the Guardian, while his surviving band members also paid tribute.
"The band are naturally very upset and sad to learn of Syd Barrett's death," Pink Floyd said in a press release, "Syd was the guiding light of the early band line-up and leaves a legacy which continues to inspire."
Electronic music pioneer Mancunian John Foxx, was equally effervescent, telling Skrufff "It's only in retrospect that you recognise how central Syd Barrett was to that entire period and how important he was."
"Anything that's slightly off centre or off-pop in England is his territory and his space- that's where it comes from."
The Ultravox synth legend regularly hitchhiked down from Manchester to London in the 60s to watch seminal Pink Floyd shows including the Technicolour Dream at Alexandra Palace and said he was enormously inspired to explore making experimental music.
"I don't think he's got any contenders, he was the inspiration for a lot of people at least as a stepping off point for many, including people like John Lennon," said John.
"He gave people like Lennon a springboard to use all the eccentricity that Lennon had, which he hadn't been using up until that point. He'd been part of a standard pop band until Syd Barrett came along then suddenly the Beatles transformed, and really took it on into another form. That's when all modern music was created really, everything- electronic music, psychedelia, the whole lot- was down to that time when Syd was in the Floyd."
Though Pink Floyd became briefly ridiculed in the punk era when Johnny Rotten wore a T Shirt with the message scrawled across it 'I Hate Pink Floyd' the former Sex Pistol more recently said he'd been joking, pointing out that the band were 'so brilliant, nobody could seriously hate them' (Yahoo News).
"I never hated Pink Floyd. I was having a laugh," said Rotten, " How could you hate Pink Floyd? It's like saying, 'Kill the fluffy bunnies.'"