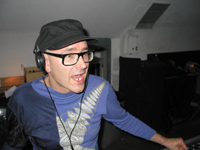 international news _ 19th July, 2006
Larry Tee Lashes Twilo's Return
Text by Jonty Skrufff (Skrufff.com)
New York's biggest superclub of the 90s Twilo announced this week that they're to open their brand new Miami venue on Saturday July 22, almost 7 years after being shut down under Major Giuliani's infamous anti-nightlife campaign.
The new venue is kicking off with a weekly gay event The Construction Party then launching a straight Friday night party in September though failed to impress New York scenester and Twilo veteran Larry Tee.
"Twilo in Miami might be a bit uninspiring for a New Yorker, there is already a glut of mega-clubs in Miami and they are owned by one conglomerate corporation," said Larry.
"The New York Twilo's main significance was that it ushered in the era of progressive house DJs like Sasha and Digweed. Trancey house doesn't inspire me much but it will probably appeal to many tourists heading to Miami, the Ibiza of the USA," he told Skrufff.
The electroclash founder has quietly become New York's biggest DJ in recent years, currently spinning to over 3,000 clubbers at three different weekly residencies in Manhattan (Happy Valley, Distortion Disko and BANK at Element Saturdays) and ironically DJed at Twilo when it first took over from Sound Factory in the mid 90s.
"I started their Friday party that helped launch the Sasha/ Digweed phenomena in the States, but in my opinion, the Twilo era was a dull era of New York when club creatures and dance music became generic," Larry continued.
"It was that awkward period where house lost its flavour, trance filtered in and there wasn't the electro-discko-punk vibe to bring in new excitement. Twilo seemed like an over-priced bottled water with a nice label: a designer club for the soon-to-be bottle service culture."
"During Twilo's New York run Larry lived directly above the club though hung out elsewhere on Michael Alig's notorious Club Kid scene and remained singularly unimpressed with the club compared to New York's other iconic nightclubs from an earlier era.
"It really isn't fair to compare the nightclubs of the 80s to Twilo, Danceteria, Palladium and Area, which were all so rich with vibrant energy and talent that came from rock bands, disco, performance art and new wave, whereas Twilo ushered in the era of DJs as gods," he said.
"But most of the Twilo DJs played one sound all night long whereas the 80s/early 90s DJs played the best of everything. I think the arrival of ecstasy in the early 90s created an environment perfect for the longwinded mega-mixes of Twilo," he added.