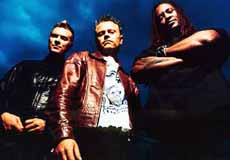 international news _ 10th July, 2006
The Prodigy's Raving Madness
Text by Jonty Skrufff (Skrufff.com)
Liverpool dance festival Creamfields announced that they've succeeded gaining a licence for their new event at Danebury after overcoming minor local objections to their new Greenfield site.

"We are naturally delighted that our licence application has been successful," said Cream Chief Executive James Barton, "We were always confident in the strength of the application and we are now looking forward to putting on what will be a superb show."

The 45,000 capacity rave is being headlined by The Prodigy who promoted their August appearance in DJ Magazine this week, with a typically inflammatory call to arms.

"We're going to go to it [Creamfields] with the same attitude we always have- we'll be on the fucking attack," band leader Liam Howlett snarled, "And if people can't handle it, fuck 'em."

In the same article, Howlett again made a point of distancing himself from dance culture, though was less incendiary that earlier this year when he told the Telegraph 'we don't care if the dance scene is dead. It's in the state it deserves to be in'. His stance also differed dramatically from his attitude of 12 years ago, when on the sleevenotes of rave anthem One Love he wrote a scathing polemic complaining about going raving and 'the old bill (police) treating you like a mass murderer'.

"Remember a few years ago, remember the raves with the pumping bass, the volume at its best, the atmosphere kicking, the people friendly and free! But then the police had to put their oar in, the Government then have their say, 'turn down the music, noise pollution', what a load of bollocks," he stormed.

"There's no-one left to blame but the authorities. Bollocks to the authorities, you can't stop us. We're gonna keep the dance scene strong even if the world isn't. The dance scene is far too big to just disappear," he (presciently) declared.
Event : Creamfields 2006 (26/08/2006)