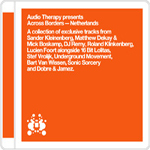 international news _ 5th July, 2006
Dave Seaman Looks To Holland For Therapy
Text by Nick Lawrence (HigherFrequency)
Dave Seaman's Audio Therapy label which has helped pushed progressive household names like Infusion and Habersham is releasing a new compilation CD that pays homage to our Netherlandic brothers. "Across Borders- Netherlands" brings together eleven previously unreleased tracks, many created specifically for the album, from Dutch artists from the progressive, breaks, and tech house genres. There are plenty of Holland's stalwarts like Sander Kleinenberg, 16 Bit Lolitas and Matthew Dekay while some others like Sonic Sorcery are relatively unknown.

This weekend trip to Holland is the follow up to the progtastic label's sojourn into Greece which was released about the same time last year and featured Grecian Kosmas Epsilon and Dousk among numerous others. Talking of past Audio Therapy releases, if you hadn't already realized the label's "Spring/Summer Edition 2006" arrived on shelves a few months ago and celebrated a similar international flavour featuring works by Australian Sean Quinn & Andy Page, Japan's Osamu M and British Paul Jackson.

"Across Borders- Netherlands" is out on Audio Therapy on July 10.
Release : V.A. / Across Borders- Netherlands (10/07/2006)