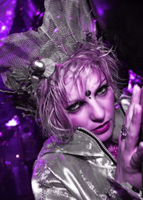 international news _ 4th July, 2006
No Sex Please, We're Female Superstar DJs
Text by Jonty Skrufff (Skrufff.com)
Increasing numbers of women are abstaining from sex and replacing insecurities and uncontrollable emotions with life enhancement, according to a new book, 'The Cult Of The Born-Again Virgin: How Single Women Can Reclaim Their Sexual Power'.

'During their celibacy, these women got out of debt, focused on career growth and lost weight,' Born-Again Virgin author Wendy Keller told the Metro newspaper, "They began pursuing long-held dreams, such as starting a business, buying their first home or going back into education. By doing so, not only did they make their lives richer but this sense of confidence and success also attracted males even more."

Her comments struck a chord with views expressed by superstar DJ Sister Bliss, who last year sold over 1 million copies in the UK alone of her band Faithless' Greatest Hits album, after a ten-year career of relentless success as a top level DJ and artist,

"I get stressed when I see my professional life starting to take over my social life. It makes me ask myself, 'Does this make me happy?" Sister Bliss told the Guardian last year, "It gets to the point where you realise you haven't had sex for years," she added.

Stink Mitt Canadian star Betti Forde told Skrufff she's experienced two significant periods of celibacy, each of which coincided with positive periods of her career.

"Twice in my life I went about year being totally celibate, once I didn't even kiss anyone for a year," she said, "It was not by choice though," she added, "I'm not that picky even but for some reason there was no one to fuck. No one. It's another indication that Vancouver, where I live, sucks," she laughed.

Hard dance/ breaks diva The Ting who's renowned for DJing naked at sex clubs including Torture Garden, told Skrufff she also relates to both abstinence and born-again virgin theories, though revealed her own motivations were markedly darker.

"My first sexual experience was not a good one, I was raped by my best friend's boyfriend at 14," Ting revealed.

"Since then I have had lots of crap sex mainly because I wasn't allowing myself to enjoy it. I believed I was bad and wrong for letting what happened happen and yet never took responsibility for my part in the event. I read in a book recently that abstaining from sex for three months meant that you could replace your original sex imprint and after having spent three months away from my boyfriend, upon his arrival back into the UK I created a new experience for myself.

I basically organised a couple of days of sex in the way that I wished it had been since the first time and it worked, We had a wonderful time, I feel better about myself, more confident and able to allow myself pleasure," she added.

"My final thought: Quality is much better than quantity; perhaps even having it only once every three months," she mused.

Sister Bliss showcases her more esoteric musical taste on a new triple CD compilation Renaissance Presents 3D- Faithless (alongside Mai Jazz) which is out on July 10 on Renaissance Records. Ting can be spotted DJing at Turnmills in London, July 15, when she spins a funky breakbeat electro set under her new alter ego of Zoe Hart, alongside Dave Angel, Paul Arnold, BK, Queen Maxine and Jonty Skrufff.
Release : Faithless / Renaissance 3D (10/07/2006)