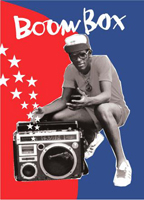 international news _ 3rd July, 2006
London's Dysfunctional Family Wrong Foots The Sunday Times (Again)
Text by Jonty Skrufff (Skrufff.com)
The team behind Hoxton's hugely successful alternative/ fashion weekly party Family suddenly announced last week that they're abandoning Saturdays at Bar Music Hall, to start a new Sunday night party Boom Box at rival Shoreditch venue Hoxton Bar & Grill.

The club bowed out with Sister Sledge's We Are Family, just as The Sunday Times' trendsetting Style section labelled it 'the hottest club night to hit Britain in years' due to its 'random, brilliant and provocative music policy', ultra-tight door policy and popularity with "fashion royalty".

"Family is more than just a freakish fancy-dress party, it is fast becoming the hippest night out in town," the fashion follower bible gushed, "At a time when the West End is awash with so-called private members' clubs rammed with corporate types and fake Paris Hiltons, Family provides a heady, polysexual playground on the fringe of the club circuit and a fertile hunting crowd for creative types."

Their euphoric endorsement prompted much amusement from Family/ Boombox resident DJ Colin Toogood who told Skrufff the team were particularly delighted with the timing of the Sunday Times puff piece.

"It helps perpetuate the enigma that just as they are showing this interest, the party has completely vanished into thin air," Colin chuckled.

"We don't want just anybody coming to our parties and a lot of people are probably very excited right now about the prospect of checking out this exciting new club they've just read about."

Family's reincarnation as BoomBox kicked off on Sunday July 2nd at Hoxton Bar & Grill 'with a character all of its own', Colin continued; despite being run by exactly the same Family team with virtually identical principles, he admitted.

"We know that the popularity of Hoxton means that there are 'all sorts' roaming the streets looking for a place to party and that's why we have such a strict door policy- we're appealing to a particular crowd and we want to ensure that that is the crowd we have inside the venue," said Colin, "It's too easy, in this area, to fill up your club with horrible blokes in bad shirts."

We'll also be excluding anyone with Hoxton fin type haircuts, Pete Docherty look-alikes (unless accompanied by the real Kate Moss) and anybody in fancy dress; "dressing up is a real art form and in no way connected to 'fancy dress'," he stressed.

"And we also won't let in any women that look or behave like footballers' wives and girlfriends either."

Ironically. Hoxton Bar & Grill is the same venue Family promoter Richard Mortimer previously used for his pre-Family club Golf Sale, which also appeared in the Sunday Times Style section just as it closed down (in 2004), tipped for its 'cool new electroqueer' audience and celebs including Jake Arnot and Alexander McQueen (also cited by the Times as a Family regular).