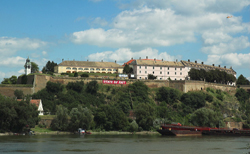 international news _ 3rd July, 2006
Serbia's Exit Organisers Dismiss Reheated Charges
Text by Jonty Skrufff (Skrufff.com)
Novi Sad officials charged three Exit Festivals key organisers with giving out free tickets worth 140,000 euros at a previous event, last week, some two years after they first took Dusan Kovacevic, Bojana Boskovic and Deana and Ivana Gligoric into custody over the alleged offences.

Kovacevic and Boskovic were detained for a week in 2004, prompting public protests calling for their release and according to Exit publicist Rajko Bozic, all four organisers should have been fully cleared late last year.

"The investigation was finished on 15th of December and it was very long investigation - a year and a half. The prosecutor was obliged to charge them then or to close the case within 15 days, but the indictment was written on May 12 then delivered a month later, so the deadline was even missed by over six months," said Radko.

"Plus they are not charged with stealing any money, rather they're accused of harming Exit by distributing too many free tickets, without permission of the Board, which is bullshit, because firstly we can easily prove they had permission and also that it was good for the festival," he said.

When the organisers were briefly jailed two years ago, UK based promoter Paxton Talbot suggested the charges were the handiwork of 'the same forces which have driven young people out of the country, who are against reforms and a European Serbia and want to lead the country back into isolation," though Rajko was more circumspect.

"Today we see it more as being about the incident rather than a campaign though obviously there remain some powerful individuals in our society with no respect for the legal system," he said.

"But most people here think it's a bad joke and sounds completely bizarre. Certainly these charges won't affect Exit '06 at all. This is going to be the best Exit ever," he predicted.

Princess Superstar (in her DJs Are Not Rock Stars/ Alexander Technique guise) Morrissey, and the Pet Shop Boys headline Exit's main stage with DJs including Dave Clarke, Jeff Mills and Steve Lawler headlining its 20,000 capacity dance arena.
Event : Exit Festival 2006 (06-09/07/2006)
News : Thousands Of Brits Invade Serbia's Exit (06/06/2006)
News : Last Exit From Serbia- Exit Organiser Protests EU Visa Rise (24/04/2006)