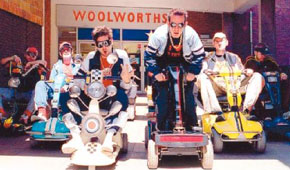 international news_21st July, 2004
Safe as Reading
Described as what the Beastie Boys would have been like if they hadn't discovered Buddha, Goldie Lookin Chain have been announced as the opening act at this years Reading and Leeds Festival.
A Hip Hop collective from Newport in Wales the group have been around for about 4 years now and slowly built up a following for themselves with a constant stream of self made albums that have been shared on the internet, given away on their home page or copied and spread around from the pubs of their home town. Infectious lyrics revolving around smoking 'draw' and 'shagging birds' have hit a chord with the nations youth and in February this year the group play their first headline gig in their home town of Newport with national dates following. The word was out and after months of wrangling between 8 major labels Goldie Lookin Chain finally signed to East West/Must Destroy in March with heir first single on the label, 'Half Man Half Machine' released in April.
A rammed tent watched their Saturday night performance at Glastonbury and the group have just returned from headlining the opening party of Manumission in Ibiza. The Newport crew have got the rest of their summer booked up with a string of festival appearances all over the UK culminating in their appearances at Reading and Leeds festivals where, according to rumours, they will appear on stage with label mates The Darkness to perform their version of Run DMC and Aerosmith's rap/rock classic 'Walk This Way'
Predictions on the future success of this group are divided, some think that they are a comedy act that will never last while others ,(including no doubt their label who have just shelled out a massive advance), have high hopes for the group of 'townies' from Newport. Decide for yourselves and check out their website where you can preview their latest video, download tracks and get the lowdown on Goldie lookin Chain.