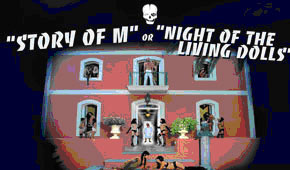 international news_5th July, 2004
Manumission: From Ibiza to N.Y.C.
Less than a week before their opening event in Ibiza, UK promoters Manumission, well known for their raunchy parties have confirmed they will be starting an event in New York just a few weeks after the season in Ibiza finishes this autumn.
With a reputation for their raunchy events they're sure to cause a stir with New York's increasingly conservative city government. The move to New York comes at a time when Andy Manumission thinks there will soon be a rebellion against the growing power of the conservative middle classes.
"We reckon there's going to be a backlash against Conservative America. I think you can only suppress a city like New York for so long and we love the idea of coming into New York and launching within a week or two of the US elections."
Possibly Ibiza's best known promoters they have gained a reputation over the years for their explicit events. The most hedonistic parties on the island, images of widespread nakedness and public sex shows were widely reported in the UK tabloid press. This years events feature the, 'all new totally naked Manumission girls' (showcasing their 'Bollywood Bonanza').
Looking set to follow their reputation through another wild Ibiza summer the launch party, this Monday, (July 6th), features Goldie Looking chain, Ivan Smagghe and new residents, The Jujubabes.
Manumission @ Privilege Ibiza, 45 Euros Advance, 55 door