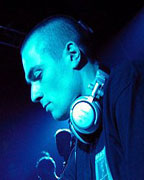 international news _ 26th January, 2007
Scan X's Laptop Logic
Text by Jonty Skrufff (Skrufff.com)
French techno hero and production guru Stephane Dri (aka Scan X) chatted to Skrufff this week about his latest remix of Alix Roy's new single Club You and revealed that he believes software advances don't make song-writing significantly easier.

"It's true that anyone can make music with a laptop, but it was also true 30 years ago with a guitar," Stephane pointed out, "The question is not how to make music, the question is to how to share emotion with the music . And then the important thing is not the laptop or the guitar but the person behind it."

The Paris based star has worked as a studio engineer and producer for over 15 years, engineering Laurent Garnier's recent tracks and releasing a stream of his own acclaimed electro-tech tracks throughout that time, though stressed he's always conscious to avoid replicating formulas.

"I really try to avoid to follow the same method and approach particularly with remixes, as every case is different. For example you might be inspired by some elements you like or don't like, then there's also the expectations of the original artist to consider. Some want you to keep the spirit of the original, Others want you to be free to bring the remix to your own world," he said.

"I really try not to consider too much the audience and fans' expectations during the creative process, I think it's OK to consider it before making music or after making music but not when you are making music," he said, "The best ideas always emerge when you're free from expectation."

Stephane also concurred partially with Bob Sinclar's assertion that 'too much jealousy' in France means artists are 'not allowed to be successful, to make money', agreeing 'I have to admit that money is really taboo in France'.

"People don't like to talk about it much but at the same time are really curious about it. But I don't think you loose friends because of money; you loose friends because money changes you or your friends," he mused.

"Anyway can we really consider people who change the way they act with you because you've got money as 'friends'?"

Alix Roy's Club You is out shortly on B Trax Records.