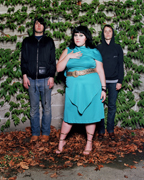 international news _ 24th January, 2007
The Gossip's Malicious Gossip
Text by Jonty Skrufff (Skrufff.com)
Fast rising electro-rock star Beth Ditto tore into US popsters the Scissor Sisters this week, telling Mixmag touring with the band was 'a really soul-sucking experience.'

"It wasn't gigs, it was 'concerts', you know like when you're nine and New Kids On The Block come to town and you camp outside the mall all day to get your ticket," she complained. "The audience were moms wanting chart hits. They've never seen a John Waters movie or heard the Ramones."

Her comments appeared as The Gossip's UK label Back Yard announced that they're re-releasing Standing In The Way of Control in March, after the (excellent) Soulwax mix was broadcast relentlessly on Channel 4, when it was used on a trailer for new TV series Skins. The track previously reached the Top 40 in November though is now expected to chart highly, almost certainly selling to the same 'moms wanting chart hits' who like the Scissor Sisters.