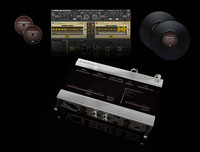 international news _ 23rd January, 2007
Digital Revolution Continues With Traktor Scratch
Text by Len Iima (HigherFrequency)
With the recent decline in turntable sales, and the success of analogue to digital interfaces (ie. finalscratch) Traktor is now entering this growing new wave of next generation Dj equipment.

Traktor, well known for their mixing software have decided to add a hands-on approach with the all new Traktor Scratch. Like Final scratch, Dj's are able to use "regular" turntables to cue, mix and even cut it up using a unique Audio 8 interface and a set of vinyls with special time encoding.

A newly designed Traktor 3 mixing program is of course included so a Dj's set can be planned and timed out in advance. To those new age Dj's who wanted to use Final Scratch but couldn't due to the incompatibility with the new Intel core duo, Traktor Scratch is your answer. You will be joining the ranks of some very big names like Funk D'Void, Chris Liebing, Matthew Dear and Richard Devine.

Will this new product revolutionize Dj'ing like the 1200's? With more and more Dj's and artists working solely with a digital medium, it is very possible that records and digging through the crates will soon become extinct.

Traktor is scheduled to be release in April (May in North America) with the full version thinning your wallet around 600 Euros, or 95,000 Yen.


News : Superstar DJs Facing Extinction? (01/09/2007)