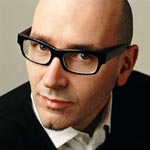 international news _ 22th January, 2007
New Electroclash; New Maximal
Text by Jonty Skrufff (Skrufff.com)
Electroclash pioneer Larry Tee chatted to Skrufff this week about his current musical style and revealed that as well as loving new rave he's particularly enthused by 'maximal'.

"Some of my contemporaries want to stone me because I love to dance to the new funky minimal techno-house sound, but I am not ready to give up the new-rave/electro house either; the solution is maximal," said Larry.

Comparing maximal to Balearic ('you play whatever works for you, in Ibiza it was warm and fuzzy, in New York now people want variety') Larry said the style is revitalising clubland, with genre tied DJs increasingly struggling.

"The one note DJs who play just house or progressive or techno exclusively are having a tough time keeping the children interested. I definitely want to hear bombs going off and a loud and fast fusion of everything that kicks ass now, including minimal. AND I want some attitude on the floor like the old days," he added, "Maximal is the best of everything."

Starting his club career as one of the key characters in Michael Alig's Club Kid scene of the 90s, Larry enjoyed his first taste of mainstream success, writing Ru Paul's breakthrough hit "Supermodel", though achieved his greatest recognition when he helped kickstart electroclash. Nowadays one of the most successful DJs to have emerged from the scene, he sounded a cautionary note, however, for bands getting caught up too closely in the current new rave hype.

"I like the term new rave though having been associated with the term electroclash, I suspect any act labelled new rave will be haunted by the association and there is tons of great music being shoved into this category," he said. "There is a similarity between electroclash and new rave but I definitely see a difference in the two definitions. New rave has a rockier slant with a nod towards electronica."

He also offered up some handy tips for wannabe producers by outlining his own highly successful song-writing methods, which he applies on a computer using Logic and plug-ins.

"I try to start with a song idea and then think about what I want it to sound like and looking at the structure of other artists' tracks inspires me in programming beats and creating grooves, it can give me a starting structure when I take their work apart and analyze it." he said.

"Sometimes even trying to imitate something directly is a great start because there is no way it will sound like the original when I try to do it. Never be afraid to imitate someone else's work," he advised, "The Beatles started by playing other peoples' songs and then developed their personal sound."

The one time ketamine addict also revealed he has little time for End Time Biblical Apocalyptic theories like those propagated by fellow American electro-house types Jorge Jaramillo and Curtis 'Green Velve' Jones.

"God, you wont catch me waiting for the End Times, how depressing," he quipped.

"I suspect that the long slow end of the planet will not happen even in our children's times. Whenever I get caught up in paranoid thoughts, I try to do some service to the community which could mean volunteering my services for charities (I DO a fierce Alcoholics Anonymous dance set which includes the 60s song Tequila), or just giving encouragement to friends that go through tough times".

"Thinking too much about myself leads to me worrying about things over which I have no control. I spent the 80s worried that they were going to drop the bomb on Atlanta!!! Atlanta, I mean really", he laughed.

News : Larry Tee Ditches The Decks (07/26/2005)