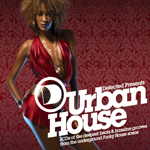 international news _ 11th January, 2007
Grime & Garage Crews Embrace 'Urban House'
Text by Jonty Skrufff (Skrufff.com)
UK house label Defected kicked off promotion for their new compilation 'This is Urban House' this week and claimed the funky house genre is replacing R&B, Grime, Garage and Hip Hop in clubs throughout Britain.

"The inner city predicts house to be the next big urban movement," Defected's publicists declared, going on to quote grime/ dubstep specialist Martin Clark at length on the topic.

"When Matt Mason left last year as editor of RWD magazine, the UK's foremost urban publication and one that supported grime even before it was called grime, he delivered a prediction: house would be the next big urban movement," said Clarke (in an article used by Defected on their press release).

"Many people laughed, but they still took note-- you don't get to be RWD editor without knowing which way the inner city wind is blowing He qualified his prediction with the statement: "If black youngsters are dancing to funky house in Tottenham, something going on," he added.

Defected also touched on the violence attached to the UK's garage scene, suggesting it's driving clubbers away in droves.

"Part of the reason for this shift (to urban garage) seems to be dissatisfaction with the moody vibe at the garage and grime clubs, with clubbers increasingly attracted to the glamour and the safety of the house scene, where the vibe is described as not so oppressive as that of other types of urban music," said Defected.

"Also not to be forgotten is because the music is song based it proves to be attractive t girls who love to hear vocals and can dress up for the music they love, where the girls go, the guys quickly follow," they added.

Whether garage's gunmen will also follow the girls remains open to question but if they do then trouble appears likely to be not far away. Three more London clubbers were shot and wounded this week on New Years Eve, when a gunman opened fire on the dance floor at the Elbow Room in Islington, in the latest near weekly shooting incident in London clubs in the last 6 months.

The night was being headlined by DJ Blakey from the BBC's digital station 1Xtra, a monthly resident at the Elbow Rooms who specializes in 'hip hop, R&B, party classics, reggae and eclectic' according to his online biography.

"I didn't hear the shots but I saw people running out screaming," bystander Emma Martin, 24, told the Standard. "One of them, a man, came out, got a baseball bat out of his car and ran back into the club with it. I couldn't believe it."

More details emerged this week of a fatal shooting which took place outside garage club Twice As Nice in 2003, when rival gangs from North and East London clashed at a bank holiday event.

An informer told police detailed information that a 'well known gangland figure target A' was to be assassinated at the club though police failed to take the tip off seriously, leading to the death of Jason Fearson, 26, who was shot dead as he fled in a car with Target A.

"(This is) Urban House" is out on Defected on January 22.