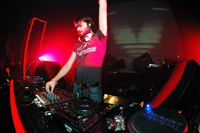 international news _ 10th January, 2007
Erol Alkan Trashes Trash
Text by Jonty Skrufff (Skrufff.com)
London trend-setter/ tastemaker star Erol Alkan confirmed he's closing Trash next Monday as his ground-breaking wildly successful weekly event marks its tenth birthday.

"After 10 great years of being involved with Trash, I feel the time is right to seal the box and move forward," Erol explained in a press release issued by the End.

"Trash has always been about development, and supporting the next generation of its patrons, and this is a huge gesture to show we will stay true to that. I will remain involved in the new project, inviting bands and dj's to play in the same way I have done at Trash, the difference being that due to recent production work and other projects which I have undertaken, I cannot give the time and attention to the night which a good club resident needs to give," he explained.

"A 10 year anniversary seems a great time to draw a line under what we've achieved as a weekly party while still going out on a high note," Trash co-promoter Rory Phillips agreed. "I think the fact that we made the best party of the week, on a Monday night, for ten years will always be our greatest achievement," he told Skrufff.

The club's unexpected closure has already prompted rival promoters to launch a new night at a nearby venue (their Myspace page reads 'as you may know, Trash at the End is closing, to fill the void we are opening Badge at Metro on Oxford Street') though Rory revealed they're also planning something similar.

"We are starting a new night, called 'Durrr' which will also be at the End," he confirmed.

"Erol will not be a resident DJ (as he is concentrating on production and remixes) but will be involved behind the scenes. 'Durrr' will not be the 'New Trash', there will be a lot of nods to what made Trash great but with an eye on the future," he added.
Party Report : GAN-BAN NIGHT SPECIAL [BREAK ON THROUGH] Vol.5 x DIESEL-U-MUSIC 2006 (06/10/2006)
Interview : Erol Alkan Interview with Jonty Skrufff (06/05/2005)