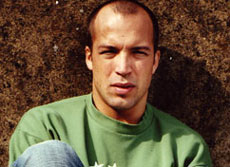 international news _ 30th January, 2006
Still Deaf Mylo Cancels US Tour
Text by Jonty Skrufff (Skrufff.com)
UK electro-house star Mylo cancelled his upcoming tour of the US this week after his hearing problem failed to up.
The Scottish singer contracted a virus over Christmas when he was in South Africa losing hearing totally in one ear and partial hearing in the other, forcing him to cancel gigs in Japan and Australia including prestigious festival the Big Day Out.
"We had hoped that his condition would recover sufficiently to allow him to perform live shows in America, unfortunately his recovery is very slow and no real progress has been made," Mylo's publicists announced this week.
"As he has been recommended to completely recover he won't be able to perform for the foreseeable future and he has been advised by his doctor not to commit to anything further at least until the end of February.
Upcoming UK trance star Gareth Emery was sympathetic to Mylo's plight, telling Skrufff "If I were in the same situation I'd reluctantly cancel a tour as well.'
If you've got an ear infection, the last thing you want to be doing is flying and then and doing gigs, because that's when you could do some proper irreparable damage," he said.
The 23 year old producer admitted he's recently started wearing earplugs at gigs, and admitted he'd recently tested his hearing on an online website, after noticing a slight ringing in his ears when he tries to sleep at home.
"It sounds obvious, but you only get one set of ears and the damage you cause to them is irreversible. If making a few small changes like wearing plugs now and again and not caning the volume to much on my headphones is enough to save me some major problems in 30 years time, I'm all for it. It's not a risk I want to take anymore," he added.
Mylo Email Interview (22/07/2005)