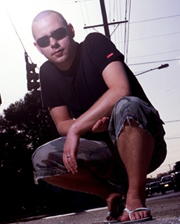 international news _ 30th January, 2006
DJ Hyper's Mild Mannered Riot
Text by Jonty Skrufff (Skrufff.com)
UK Breaks star DJ Hyper chatted to Skrufff this week about his debut artist album 'We Control' and revealed that its front cover artwork featuring an activist facing down a line of riot police had minimal underlying significance.
"We're not trying to make any aggressive statements with that image, it just works very well with the title track of the album We Control; and it's a very powerful picture," said Hyper.
"I just like that riot image even though it's a bit of a contradiction given that I live in a cottage in the middle of Oxfordshire. I'm certainly not going out rioting on the streets of London," he laughed.
The new album, which includes an intriguing cover of Adam Ant's Antmusic, pays homage to 'the days of the Punk Rock revolution' as the press release puts it, though Hyper admitted his own punk and revolutionary credentials are decidedly thin.
"The closest I've got to terrifying situations like that has been being down Ladbroke Grove during Notting Hill Carnival when it's got out of hand and there's nowhere to escape to, or maybe the sales at Harvey Nicks (Harvey Nicholls Knightsbridge department store)," he quipped.
"And I was in Zurich when the G8 summit was on a couple of years ago and we walked through the town centre literally ten minutes after the protestors and rioters had been through. There were loads of cars turned upside down in the middle of Zurich all around us but I wasn't in that situation as it happened."
We Control (which features contributions from ex Prodigy members Leeroy Thornhill and Jim Davies) is out shortly on Hope Recordings.