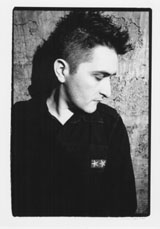 international news _ 30th January, 2006
The Hacker Harasses 'Quite Boring' Minimal DJs
Text by Jonty Skrufff (Skrufff.com)
Electro-tech uber-producer Michel 'The Hacker' Amato branded minimal techno 'the new electroclash' this week and suggested that, like electroclash several years ago, the much-hyped genre could soon be struggling.
"There are some good records out there of course, but now everybody is into it and what I find particularly surprising is that you're finding hard techno DJs who are doing minimal stuff now as well as people from the commercial house scene," said Michel.
"It just shows that minimal is a new fashion thing, that people think it's cool to do be involved. It's exactly the same as what happened with electroclash, three or four years ago; everybody was suddenly into electro from one day to the next. It's the new thing, it's everywhere, but then next year it will be something else that's in fashion. We just have to wait and see which artists will remain."
The French producer remains one of the highest profile artists to have emerged and prospered from electroclash, though confessed he loathes minimal so much he often hassles DJs, bombarding them with cheeky record requests.
"I always go to the DJ booth, especially when I'm drunk, If I'm sober, or normal I don't ask, but when I drunk I always ask the DJ to play different records if I don't like what I'm hearing," Michel chuckled.
"I remember being in a club with Vitalic a few years ago and we were totally drunk and there was some DJ, I can't remember who, playing this very serious, intellectual minimal style and we thought it was very boring so we approached him and said 'please play something interesting, play Daft Punk or Giorgio Moroder, whatever, play something funky'. I have to say the day after I felt a little guilty and thought I shouldn't have done that but during the moment, it was very funny. Not for the DJ but it was for us," he laughed.
"I have to say I was in Berlin a few weeks ago and this music is everywhere, at every party everybody is playing the same thing and it's quite boring; very boring," he continued, "Three hours of plip-plop, plip-plop is too much. I guess it must have something to do with the drugs. Minimal is very druggy music."
The Hacker's Traces EP (featuring remixes by Oxia, Dexter and a Black Strobe remix of Flesh & Bones) is out shortly on PIAS.