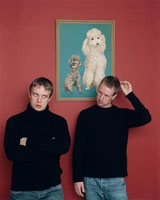 international news _ 30th January, 2006
Medicine 8 Re-Rock The Capital
Text by Jonty Skrufff (Skrufff.com)
Irish brothers Liam and Luke May look set for a massive club hit with their excellent comeback single Rocks (Make Her Temperature Rise) some four years after they first unveiled their far-ahead-of-its time rock-dance classic Capital Rocka.
Snapped up by EMI's Regal, the brothers went on to remix bands including Manic Street Preachers, Orbital and X Press 2 though failed to crossover significantly, though chatting to Skrufff in 2002 stressed they were quite happy to remain in the background, both as producers and DJs.
"I'm not interested in the whole rock superstar side of things, I like rock music but not the stuff that comes with it," said Luke, "We consider Medicine 8 to be about making music first and DJing second; we also make all kinds of music that's not just meant for the dance floor."
Luke also revealed that the band almost imploded before they'd began when he carelessly failed to extinguish a cigarette butt properly and burned down his recording studio, nearly triguring a modern day fire of London.
"It was a strange fire because apparently it was incredibly hot but had no flames. It basically burnt a hole in the floor, through one of the main joists and landed in the office below," he recalled.
"Then the studio caught fire, someone saw it and the firemen came and put it out. It could have destroyed the whole block. The London Palladium backed onto the building that we were in and all the buildings were wooden so it could have been a major disaster."
Rocks (Make Her Temperature Rise)/ Gimme What You've Got is out now on Regal Recordings.