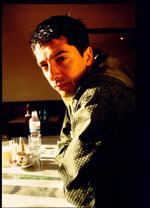 international news _ 30th January, 2006
Rui Da Silva's Insect Infestation
Text by Jonty Skrufff (Skrufff.com)
Tribal house turned 'electro minimal glitchy' producer Rui Da Silva chatted to Skrufff this week about his new monthly London party Insect and revealed that he named it following a bizarre revelation he experienced over the holiday period.
"It happened on New Years Day," Rui revealed, "the word Insect came to mind when I realized that evolution of the species will mean that we humans will become giant preying mantis."
The Portuguese star, who achieved a number one hit in 1999 with his Chris Coco collaboration Touch Me was similarly cryptic about the club's music policy of 'electro minimal glitchy' declaring 'you can say its a style where sound, aesthetic and function are merged into an entity of hypnotic movement and form.'
He was much clearer, however, about the music clubbers won't be hearing at Shoreditch's T Bar next Thursday night (February 2)
"Don't expect to hear the traditional house music from the last 18 years," Rui stressed, "As we will be only pushing forward new music."
Insect opens at the T Bar on February 2 from 9pm: admission is free.
Rui Da Silva Interview with Jonty Skruff (13/09/2006)