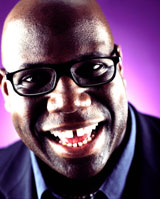 international news _ 30th January, 2006
Carl Cox- An Apology
Text by Jonty Skrufff (Skrufff.com)
This week we ran a story questioning Carl Cox's health, combining currently unsubstantiated quotes from an Australian magazine with an earlier interview Carl gave to Skrufff in July 2005 in which he discussed adopting a healthy lifestyle involving training, a controlled diet and minimal drinking.
Having spoken to Carl's manager Lynn Cosgrave, we understand that Carl has continued this health conscious regime continuously since then and is very upset by the article. We apologise unreservedly for any upset and distress we've caused Carl, Lynn and all his friends and family through the story.
The article was written with the best of intentions and motivated by a misplaced concern for Carl's wellbeing and in fact, we're delighted to hear that Carl's health is actually great.
Carl has also generously agreed to address the issue in an exclusive interview which we'll be publishing in a few days.
Interview: Carl Cox Video Interview (20/12/2004)
Interview: Carl Cox Interview HTML (20/12/2004)