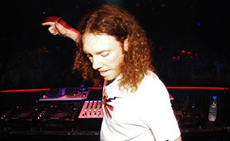 international news _ 27th January, 2006
Tim Deluxe Blasts 'Same Old-Same Old Bullshit House Music'
Text by Jonty Skrufff (Skrufff.com)
UK house/ garage producer Tim Deluxe unveiled details of his new monthly London party AT this week and revealed that its musical mix is going to be firmly based on 'eclectic'.
"The music policy is based on my taste and the styles I play, meaning anything from house to tech to electro to rock, whatever; and that's going to be reflected in the guests as well," said Tim, 'Definitely no trance," he chuckled.
"The night's called AT (after my label), I'm starting it because I felt I needed an outlet for my DJing in London after being part of the Underwater parties at The End. And smaller nights are better for trying out stuff, getting guests down and there's no pressure," he added.
Chatting last summer, Tim told Skrufff he was 'sick to the teeth with dance music' and considering giving up, though this week he said he's reconsidered.
"Most house/club music I listened to then sounded shit, same old-same old, build-up, breakdown ,4/4 beats, woosh noises,909 rides, filters, contrived bullshit; the list of complaints could go on," he complained, "so I started going record shopping again regularly which was good, as I found there are people out there trying to push things forward and move house music on.
"I don't think I would have ever stopped, but it did make me think hard and long about where I want to play and what music I want to put out," he added.
"I want to stop worrying about how much I'm getting paid but make sure I'm happy and inspired to keep travelling and writing."
AT takes place at Medicine Bar on Thursday January 26 with special guest Switch joining Tim on the decks. Tim's new (appropriately named) single I Don't Care is out on February 6.
Tim Deluxe Video Interview (15/07/2005)
Tim Deluxe Interview HTML (15/07/2005)
Party Report: Diesel-U-Music Awards 2005 feat. Tim Deluxe, BT & Adam Freeland @ ageHa@studio coast (15/07/2005)