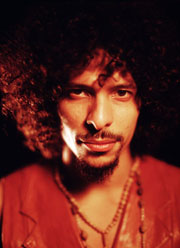 international news _ 27th January, 2006
Sandy Rivera- I Have No London Profile
Text by Jonty Skrufff (Skrufff.com)
Kings Of Tomorrow New York house producer Sandy Rivera launched an ultra low key London residency at tiny Clerkenwell venue the Cosmo Bar this week and told Skrufff he's deliberately setting his sights low.
"The venue is a fun place to be with friends and it's more like a house party and you don't need many people for something like that," said Sandy, "There's a restaurant upstairs and the food is fab with some chilled music and down stairs is spot on to let loose, but the more people come the better."
His new party, called Blackwiz, happens every third Wednesday of the month, though Sandy insisted he's unconcerned its low visibility could tarnish his reputation.
"I don't have a reputation," Sandy told Skrufff, "It's a cool venue and in fact I am already playing all sorts of other venues but nowhere like this; it's small but dirty and I like the fact that I can play records I normally can't at bigger venues."
The erstwhile hip hop producer, whose biggest hit remains soulful house anthem Finally, relocated to London over two years ago, and said he has no regrets at leaving his home in the States.
"I think there are more venues in London that have a great vibe, it's much better here than New York City," he suggested, "There is much more of a variety of music in London and I personally like that."
Blackwiz next happens on Wednesday February 15.