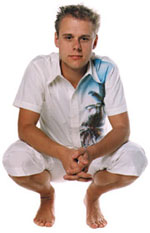 international news _ 23rd January, 2006
Armin's Small Screen Debut
Text by Nick Lawrence (HigherFrequency)
After reaching the number 3 position in last years DJ Mag's top 100 you would think there was little more that Armin van Buuren could do. But not content with simply releasing a hit new album in the latter part of 2005, "Shivers", the young Dutchman has decided to breech the world of visual media with the January 28 scheduled release of his new DVD.

But don't worry we won't be seeing the twenty-something superstar DJ trying his hand at acting (not yet anyway), as the DVD is in fact a video recording of his 9 and a half hour Armin Only event held in Rotterdam. For those who weren't able to make it to the 12,000 strong event back in November '05 it is now possible to view the whole set thanks to the magic of digital versatile disc. Also included on the disc will be an Armin Only documentary and artist interviews for your viewing pleasure.

The DVD is the next logical step for an artist who has already released multiple award winning mix CDs, artist albums, runs the his own record label Armada and has no trouble selling out events no matter which country he visits.


Party Report: DIMENSION K @ ageHa@studio coast, TOKYO (22/11/2005)