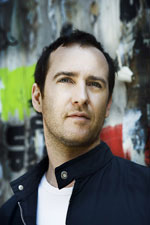 international news _ 23rd January, 2006
Sasha Asks Fans to Remix a Remix
Text by Nick Lawrence (HigherFrequency)
For all the music fans out there who have dreamed of remixing Sasha, this is your chance! Digimpro is running a remix competition that allows punters everywhere to get their hot little hands on Sasha's interpretation of the newly released Spooky 'Strange Addiction'. An iPod crammed full of Spooky and Sasha tracks is up for grabs and will go the home listener who creates the best remix as judged by Sasha and the Spooky boys, who have had limited success since their 2002 instant classic 'Belong'.

But don't worry if you have forgotten the registration key for your legally obtained copy of Logic Pro or if your midi controller is on the brink. This competition is open to everyone, not just the technologically savvy.

This is all made possible with some recent software from Digimpro. The program is called Di Music Player and in actual fact it is a plugin for Windows Media Player. What it does is provide the user with access to unreleased samples, alternative vocals and various drum loops so that you are able to listen to the tracks in their original form or mix it up like you are Sasha himself. All this is made possible through the companies sound format .di (which we are lead to believe stands for digitally interactive).

While the tracks available in .di format are limited, despite notable releases by Moby, Roots Manuva and Spooky, it may be worth keeping an eye on the format as digital music increases in popularity.


CLUB PHAZON - WOMB MOBILE PROJECT feat. SASHA & JOHN DIGWEED 22th November 2005
FUNDACION feat SASHA & JAMES ZABIELA @ WOMB, TOKYO 18 November 2005
WOMB presents W feat. SASHA @ WOMB, TOKYO 13th November 2004