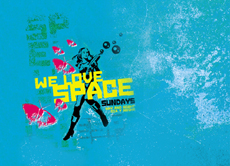 international news _ 23rd January, 2006
We Love Ibiza Chief Gets Ready To Rock
Text by Jonty Skrufff (Skrufff.com)
We Love Space On Sundays promoter Darren Hughes has revealed he'll be introducing live music to Ibiza's Space this summer, marking a radical change for the world famous uber-club.

"The new, re-designed terrace at Space is a natural place for me to present live music and I'm currently discussing with the club owners the different options for doing that there, whether that means having live bands on Sundays, as well as maybe also on a dedicated night," Darren told Skrufff.

"I can confirm that I'm definitely incorporating an element of live music into the programme for Sunday's this year, it's just a question of deciding the who and when, according to the factors governing the presentation of a broad spectrum of great live music, be it dance, rock, indie; whoever is 'hot'," he promised.

Initially making his name with Liverpool superclub organisation Cream then later Homelands, Darren went on to turn We Love Space into Space's busiest, most successful party, principally through his policy of picking a select bunch of cutting edge and big name DJs and his decision to start booking live acts could have a dramatic impact on Ibiza's overall club scene. Admitting that in recent seasons he felt the club had started to feel like 'it was resting on its laurels', Darren also gave credit to rival promoters Manumission who last year hosted a series of live gigs on the island under the banner Manumission Rocks.

"I think Manumission were brave, they put their necks on the line with Manumission Rocks, they presented their version of what they thought people in Ibiza would want in terms of live music and they succeeded," said Darren.

"It worked for them and it definitely got the UK media and all the agent's et al a lot more interested in sending bands to Ibiza," he said.

Darren also revealed that he's no longer involved with Homelands, the massively successful UK dance festival he created with Mean Fiddler in 1998, though is collaborating even closer with leading Irish club owner and promoter John Reynolds, his original Homelands business partner of the last ten years.

"All I can confirm right now is that I won't be continuing with Homelands, and John and I are going to be setting up a new event that's will represent our personal tastes across a broad section of music, there are only two types of music after all, good and bad, and we certainly aren't looking at the bad," he declared.

"I want to maintain a tight link between what I do in Ibiza and the new festival in many ways, and that's also why I'm excited about programming the new wicked terrace at Space, where I can take more chances and broaden Space's horizon even more- that includes more live music, and an increasing amount of experimentation."

"I can't say much more right now, except that we're definitely looking to do an event in England (but not just England) this year, ideally towards the back end of summer, May is officially over for me as a 'festival friendly' month," he added.