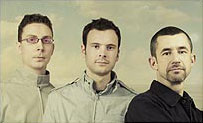 international news _ 20th January, 2006
New Album Goes Above and Beyond
Text by Nick Lawrence (HigherFrequency)
The production work of Jono Grant, Tony McGuiness and Paavo Siljamaki is about to go one step further as the trio better known as Above and Beyond prepare to release a fourteen track album in March of this year. It's a big move for a group who up until now has mainly worked on remixes and singles.
The threesome were catapulted into the spotlight when they remixed Madonna's pop-tastic 'What it Feels Like For a Girl' which the ageing pop starlet was so impressed with she opted to use it instead of the original in the film clip. This success led to greener pastures as the offers flooded in for remixes on artists like Britney Spears and Dido.
The album, "Tri-State" features fourteen fresh recordings and will see the release of the single 'Alone Tonight' on the 27th of February. Progressive-trance stalwart, Andy Moor who fills the record boxes of Sasha and Tiesto, lends the unit a hand on the album with the track 'Air for Life'.
The release of the album couldn't come at a better time for the directors of the Ajunabeats Label as they were recently ranked 19th in DJ Mag's Top 100 DJ Poll and were given the accolade of Radio One's Essential Mix of the Year. These recognitions coupled with the recent release of their Ajunabeats vol. 3 mix CD means there is no shortage of willing listeners for this hotly anticipated upcoming release.

Release: Above & Beyond- Ajunabeats vol. 3