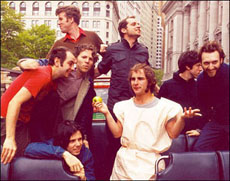 international news _ 20th January, 2006
!!! Drummer Killed In Bike Smash
Text by Jonty Skrufff (Skrufff.com)
Former !!! drummer and founding member Anthony Mikel Gius was killed in a car accident before Christmas, when he was knocked off his bike on a road in California.
!!! guitarist Mario Andreoni issued a statement about the accident on the band's website last week, paying tribute to the drummer who he'd known since childhood.
"I met him when I was 8 after a mutual friend told me I 'had to meet the other guy in the neighbourhood with more Kiss posters than you'. We quickly became best friends and went on to share the most significant times of our lives together," said Mario,
"He had a unique, occasionally overwhelming style that coincided with the way he lived his life. No matter what you thought of him, he made bands, some ordinary, some not so, worth paying attention to."
"We grew apart as our passions led us down different paths. I still love him like a brother and miss him terribly."
Chatting to Skrufff three years ago, Mario spoke fondly of the alternative scene !!! grew out of, when the band were entirely unknown outside Southern California.
"There was a scene in Sacramento centred around a venue called the Loft which was a punk/ somewhat anarchist, pseudo-anarchist type environment and !!! coalesced around there, playing in different bands," Mario recalled.
"We all played there because at its height it was the epitome of freedom, you could get on stage and do things that are similar to what people are doing with their laptops now, playing with noises and clicks, whether on bass, guitar or drums and people would still pay attention."