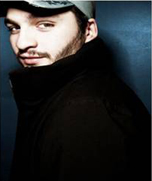 international news _ JONTY SKRUFFF_ 20th January, 2006
Ministry Of Sound Star's Gangster Escape
Text by Jonty Skrufff (Skrufff.com)
Hotly tipped dirty house DJ Steve Angello chatted to Skrufff this week about his upcoming Ministry Of Sound CD and new monthly party at the club and revealed that if he hadn't have become a DJ he1d have ended up as a gangster.
"I'm raised in a Mafia family, my Father was Greek and we had a rough situation with his family and his father and mother before that- every generation has been involved in the mafia situation," said Steve,
"I grew up with it and saw it and for me it wasn't a big deal until my father passed away in 1996. That's when I realised how dangerous it was. He was shot dead."
As well as launching his new monthly night at Ministry this January the 23-year-old prodigy runs his own highly successful label Size and has already remixed the likes of Moby, Eurythmics, M.AN.D.Y. and Royksopp in the last 12 months, though despite his achievements admitted it's no longer safe for him to visit Athens.
"It depends who I move around with when I'm there, but if I hooked up with old family friends when I was there, then of course, it would be dangerous," he said. "People would think there's Steve, he's his father's son and now he's growing up and maybe he wants to be involved".
"When you grow up in a family like that you have to make a choice, you either go with the family tradition of being a gangster or you do something else. I discovered music and that's what saved me, otherwise I would have been the same," he continued.
"When you're in that shit, it's hard to get out, you still have the same name and the same face so people will always recognise you. For me to be focusing on the DJing is much better than running around the streets doing bad stuff," he added.
Steve hosts his first full on party at Ministry on Saturday January 21st when he'll be joined by fellow resident Sebastian Ingrosso, Marc Knight and a DJ set from the Fun Lovin Criminals. Ministry Of Sound Sessions- Mixed by Steve Angello is out on Ministry on January 30.