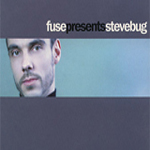 international news _ 28th February, 2007
Bug Set To Light The Fuse
Text by Len Iima (HigherFrequency)
From Belgium's top club comes their next installment of the uber popular "Fuse Presents" series. The success of past compilations may have been because world renowned DJ's like Dave Clarke, DJ Hell, Technasia and Joris Voorn were in the control room. The latest compilation maintains the high standard with Poker Flat boss man Steve Bug in the captain's chair. Although Steve Bug's minimal stylings may be a slight change of beat from those before him, his superb productions like on his own label's mixes are what got him this honour.

Steve Bug was also recently playing out at Yellow (in Tokyo) with Guido Schneider who makes a couple appearances on this album. Other stars old and new that show up are Johnny Dangerous, MyMy, Pier Bucci among many others.

"Fuse Presents Steve Bug" will be released on March 31st.


News: Steve Bug & Zabiela @ South Africa's Global Breakthrough (24/10/2006)
News: All Bets Are Off For Poker Flat (13/10/2006)
Interview: Steve Bug Interview in Tokyo(22/04/2006)