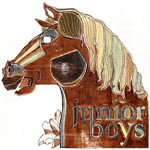 international news _ 26th February, 2007
Junior Boys Flog The Dead Horse
Text by Nick Lawrence (HigherFrequency)
Domino Records' sensations the Junior Boys look to cash in further on their 2006 hit "So This Is Goodbye" with a remix EP that includes some of the album's stand out tunes.

"Dead Horse EP" brings together five artists from completely different fields with the shared goal of flogging the anything but dead "So This Is Goodbye". Detroit devotee and Planet E label owner Carl Craig joins the ranks of crossover kings Hot Chip, Glasgow born junglist Kode9, slightly schizophrenic artist Marcus Juhls as one of his many incarnations Marsen Jules, and German producer Tensnake who appeared on DJ T's "Body Language Vol. 2".

In other Junior Boys related news the Canadian duo are currently running a video contest for budding directors and "So This Is Goodbye" lovers to choose a song and film their own film clip with the winner to receive a cash bonus and the privilege of their work being screened at Junior Boys live shows.

"Dead Horse EP" will be released on April 10.

Review: JUNIOR BOYS / SO THIS IS GOODBYE(27/10/2006)